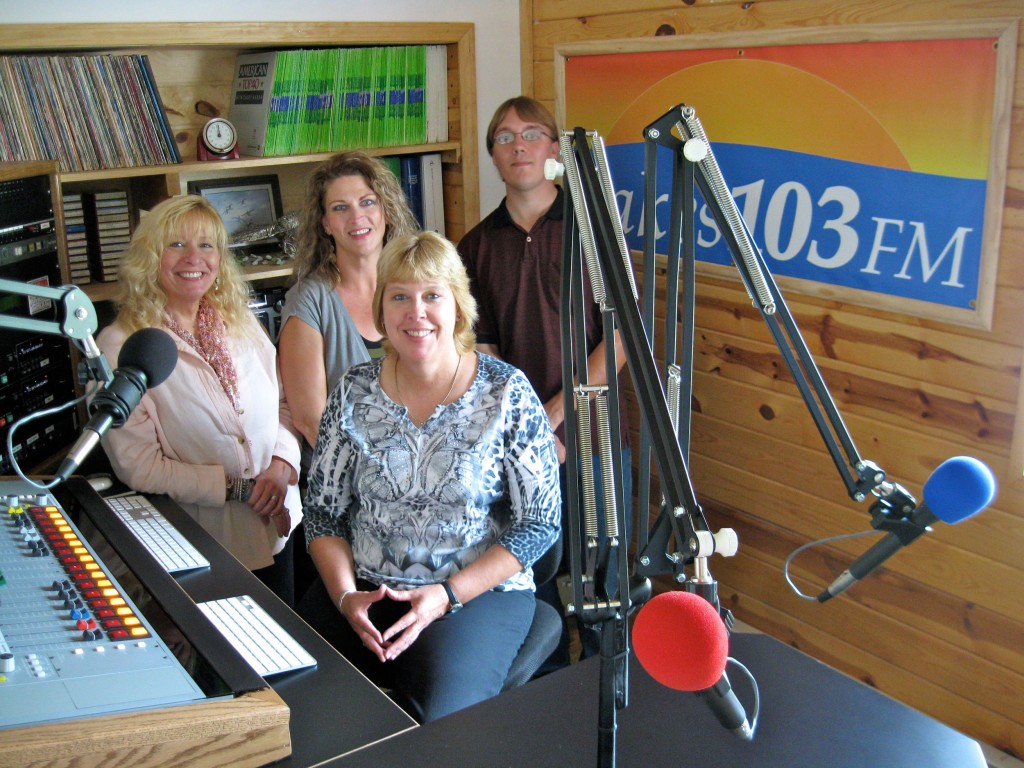 Some of the people behind Lakes 103. Front: on-air personality Robin Riley. Back, left to right: board
members Karen Amundson and Shannon Jackson; director/engineer Keith Thelen.
As the first week of August comes to a close, we here at the Lakes Media Foundation decided to take a look back at all we've accomplished this summer.
In the past three months…
We managed to round up all our studio and transmission equipment
We dismantled and removed said tower from the tricky spot it was in
We moved into our new space, and built a fancy new studio facility
We forged valuable relationships with several other community organizations
We recruited a number of top-notch personalities to execute our format
We prepared innumerable programming ideas, and refined our music library
In short, we've accomplished a lot – but there's still plenty left to do.
Our original plan was to have everything done so that we could launch our new FM station in August. Unfortunately, a number of delays and other unavoidable hassles have conspired to make an initially ambitious deadline into a nearly impossible one.
Lakes Media Foundation volunteers have been working tirelessly over these past three months to try and meet this goal. Both day and night, they've been fighting all manner of difficulties and delays, focused on the singular goal of finishing their work in time for an August launch.
But as everyone here prepares to enter another week of 'working like our lives depend on it', we've come to a realization.
"All of us are volunteers," said Foundation director Keith Thelen. "As much as I want to meet our self-imposed deadline, I also want this process to be enjoyable for all involved… and, quite frankly, at this pace, it's just not fun anymore."
So, rather than try to cram eight weeks' worth of work into three, the Lakes Media Foundation has decided to adopt a less rigorous pace for the station's construction.
"I hate to disappoint the community, especially given how much they've been pulling for us, and how much anticipation there is out there," Thelen said. "But I think we all agree that quality is important. This is a facility that we'll be using every day for many years to come. We don't want to be running ourselves ragged and taking shortcuts."
Though a new launch date has yet to be established, Thelen says that the Mora area will be able to begin enjoying its new radio station sometime this fall.
The Lakes Media Foundation is grateful for all the support it has received from the community, and especially to our volunteers and donors, without whom this project would not be possible.
We look forward to providing the Mora area with a superior listening experience in the near future, and to being an active part of the community for years to come.