What we're doing
The Lakes Media Foundation holds license for, is currently building, and will soon be operating an FM radio station near Mora, Minnesota.
From the beginning (2006, to be exact) the Foundation's goal has been to acquire an FM broadcast license to serve the Mora area. This licensing process often takes years, or even decades, and the outcome is never assured.
After years of work by our volunteer staff of directors, the Foundation's application was finally reviewed by the Federal Communications Commission in October of 2013, with the requested FM license granted soon after on January 16, 2014.
Because the amount of unused spectrum in our area is severely limited, we designed the station to fit within one of the few available spaces in Kanabec County.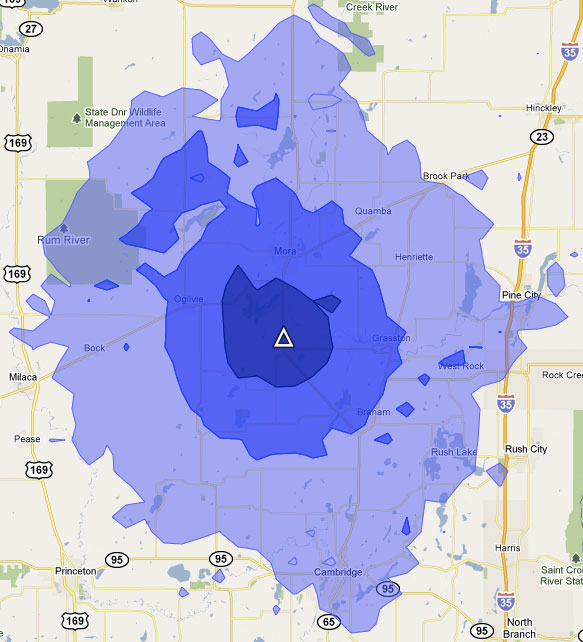 As licensed, the station will be able to operate with 100 watts of power, from a height of 115 feet above ground level, at a site just south of Mora. We expect to provide a good signal in Mora, Braham, Ogilvie, and surrounding areas; as well as fringe coverage in nearby towns like Pine City and Cambridge.
The station's programming will be local, timely, and non-commercial. Information and entertainment relevant to the local area will be aired around the clock.
Several community leaders, including the mayor of Mora, the superintendent of Mora Public Schools, and the director of the Mora Area Chamber of Commerce, have formally expressed their support for this new station.
Foundation directors have already provided land for the tower site, space for the studios, and much of the needed equipment, along with technical expertise and a limited amount of financial support. Other community members have also contributed to the project through the donation of labor and materials.
Construction of the station is ongoing; updates will be issued as they become available.