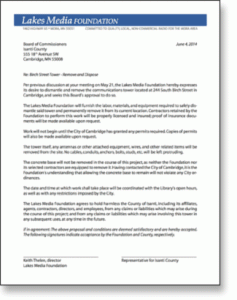 On Wednesday, June 4, Lakes Media Foundation director Keith Thelen appeared once again before the Isanti County Board of Commissioners, bringing with him a written agreement as previously requested by the Board.
Karen Amundson, executive director of the Mora Area Chamber of Commerce, also attended the meeting in a show of support for the project.
The agreement was reviewed earlier in the week by the County Administrator, County Attorney, Sheriff's Office, and other County officials; all deemed it to be satisfactory. The Board concurred, and voted unanimously to approve.
Signatures took place immediately after the vote, permitting the Foundation to move forward in acquiring the tower without any further delays.
With approval granted, the Foundation can now move forward with its two local contractors to begin the dismantling process (both of which have agreed to provide the Foundation with reduced rates in support of this community-oriented project). After the teardown is complete, the tower will be refurbished to ensure its safety, refitted for broadcast antennas and other equipment, and erected at a new location – the Foundation's soon-to-be FM transmission site.
The Foundation wishes to extend its gratitude to the Isanti County Commissioners, the County Administrator, and to everyone at the County who has been involved in this process. Their support has resulted in a significant opportunity for the Foundation, and will have a positive impact on our upcoming FM station for years to come.